A comprehensive STEAM experience that takes young students all the way from ideation to engineering!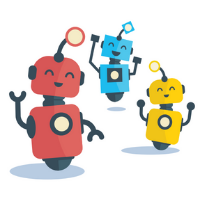 BlocksCAD is a 3D design platform that emphasizes integration of computer science and mathematics into a programmatic design process. The SOLIDWORKDS Apps for Kids suite allows students to quickly sculpt and decorate creative 3D models with a hands-on / vector based approach.
The actual 3D models built in Apps for Kids - or simply the ideas unearthed in the sandbox-style ideation of Style It - can then be imported or recreated into BlocksCAD. Here students use block-based code to mathematically engineer their designs, providing a standards-aligned experience to the building process.
Educators can take advantage of SOLIDWORKS Apps for Kids and its incredible potential as a learning tool with Apps for Kids Classroom! Teachers, parents, mentors, makers, after-school activity organizers, and more can all utilize Apps for Kids Classroom to organize self-contained classes and teach their students the principles of design and engineering.
Learn More
Want to learn more about how to use these lessons in your classroom? Contact us for more information.
Example Lessons
We have designed two experimental lessons to help teachers and students explore the synergies of these platforms. In the first - Wearable Devices - students use Apps for Kids to help them prototype and decorate a wearable smart device. They then take these ideas into BlocksCAD where they code a real model of their creation. In the second - New Food - students explore the idea of new types of scientifically designed foods. They craft a classic fruit or vegetable with a new feature in Apps for Kids and then import that model into BlocksCAD, where they engineer a digital display table to show off their new products.
We have five additional lessons for students to use BlocksCAD and Apps for Kids to create, invent, and shape their futures. The first - Scuba Diving Equipment - students use Apps for Kids to learn how scuba divers are able to move, breathe, and withstand pressure underwater, thanks to their specialized equipment. Specifically, they will create and decorate 3D models of the most flexible parts (such as the fins or hose). The second - Sea Boat Builder - students will think about how designing and engineering boats requires careful technical considerations. Using Apps for Kids, students will sculpt fins and rudders such as hydrofoils that can generate energy from the motion of the sea at a small scale rather than from fossil fuels. The third - Model Home - students will think about how architects and interior designers construct and decorate models of houses and furniture before beginning construction. They will use Apps for Kids to create and decorate 3D models of the structure and exterior of homes and to design and arrange furniture that could fill the different rooms of their houses. The fourth - New Jewelry - students will create a new jewel in Apps for Kids and import it into BlocksCAD. Students will then create a necklace to chain the jewel to. They will accomplish this using loops and rotation, to minimize the amount of code they have to write. The fifth - Robotic Drones - students will build the main body of the drone in Apps for Kids and then import their design into BlocksCAD. Using the BlocksCAD software, students will design the arms and helix of a drone. They will accomplish this in a modular way, which allows for quick and easy modifications to the design.